Get the popcorn ready!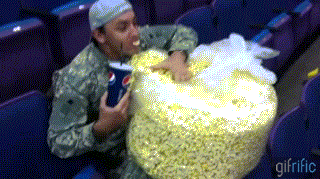 Movies on Netflix Canada come and go, not all flicks stay available on the service forever.
Below are # awesome movies that are scheduled to be removed from the service this Sunday (October 15th, 2017), so be sure to watch them before they're gone!
1. Ocean's Thirteen
A movie classic featuring George Clooney, Brad Pitt, and Matt Damon. This entry in the all-star caper franchise finds debonair con man Danny Ocean and his gang taking revenge on a double-crossing Las Vegas kingpin.
2. The Lord of the Rings: The Fellowship of the Ring
From the idyllic shire of the Hobbits to the smoking chasms of Mordor, Frodo Baggins embarks on his epic quest to destroy the ring of Sauron.
3. Happy Feet
This movie is awesome, just look at the cast: Hugh Jackman, Hugo Weaving, Nicole Kidman, Robin Williams, Elizabeth Daily, Anthony LaPaglia, Elijah Wood, and Brittany Murphy! Unlike his pals, young penguin Mumble can't sing well enough to attract a mate, but he's blessed with an unusual gift: He can tap-dance like a champ!
4. P.S. I Love You
The ultimate chick flick starring Hilary Swank, Gerard Butler, Nellie McKay, Dean Winters, Gina Gershon, Kathy Bates, and more.. When she loses her beloved husband to a brain tumor, grieving widow Holly Kennedy learns that he left a series of letters behind to help her cope.
5. 1971
Starring Rich Graff, Lauren A. Kennedy, Dennis Brito, and Bill Davidon, this is a gripping documentary. On March 8th, 1971, eight ordinary citizens broke into an FBI office in Media, PA. Calling themselves the Citizens' Commission to Investigate the FBI, they removed every file in the office. Mailed anonymously, the stolen documents started to show up in newsrooms. The heist yielded a trove of damning evidence. The most significant revelation was COINTELPRO, a controversial, secret, illegal surveillance program overseen by lifelong Bureau director J. Edgar Hoover. Despite one of the largest investigations ever conducted, the FBI was unable to catch the burglars. Those responsible have never revealed their identities. Until now. For the first time the burglars have decided to speak about their actions. 1971 is their story, examining the consequences and implications of their actions – then and now.
6. Sex and the City 2
Yes, say goodbye to Sex and the City 2 from Netflix! This movie stars Cynthia Nixon, Mario Cantone, Kim Cattrall, Kristin Davis, Evan Handler, Jason Lewis, Willie Garson, Liza Minnelli, Sarah Jessica Parker, and David Eigenberg.
Two years have passed since Carrie Bradshaw finally bagged John 'Mr. Big' Preston, the man she was always meant to be with. Just as her friend Charlotte must deal with her young daughter's 'terrible two's', Carrie must deal with her relationship taking a turn for the worse – Big likes to watch old black-and-white movies on TV and eat take-out food, which prevents Carrie from feeling like the free-wheeling party girl she used to be. Meanwhile, Miranda copes with a new boss that can't handle an intelligent, powerful woman, and Samantha works a public relations angle that gets the fashionable foursome an all-expense-paid trip to Abu Dhabi.